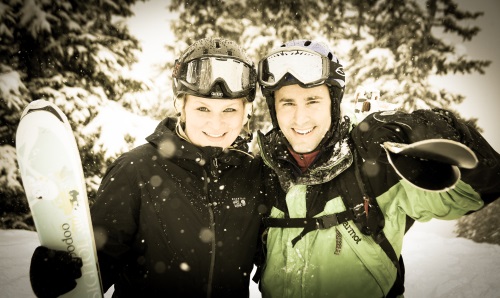 About Us
We are husband and wife team that first started timing races in 2009 and currently time over 60 races a year. To our timing assignments we bring deep technical knowledge, an understanding of the event management process, and a high-level of attention to detail. Jeff started timing in 2009 so he could time a race he was co race directing. Shortly after we started timing all races together. Jeff is an experienced software developer who has extensively studied timing systems and developed our in-house timing software and in-house Ultra High Frequency RFID chip timing system. Jeff enjoys both software development and running and is always looking to improve the software and systems involved in race timing. Jeff holds a Masters Degree in Software Engineering from Portland State University and a BS in Software Engineering from Oregon Institute of Technology. Heather is the reason Huber Timing exists. She encourages systems development, creates and improves processes, does all marketing, and keeps operations organized. Heather holds a BA in Business Administration from Linfield College. We are both avid skiers and runners, and are members of the Team Red Lizard running club. We love timing and find it a great way to spend time together. To learn about the services we provide, see Services.
Our Office Staff
Our "office staff" consists of: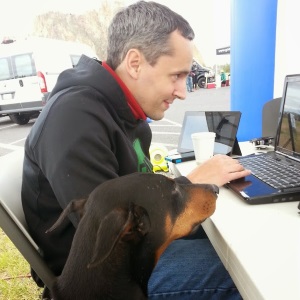 Brighton Doberman, Chief Timing Dog. Adopted in May 2014 Brighton quickly became proficient at the tasks of a race timing dog. She is extremely sweet and becomes excited anytime she hears a Garmin beep as she thinks she is going for a run. She loves riding in the timing van where she snuggles between the seats. Her favorite races are ultras, and her first timing assignment was GoBeyond Racing's Smith Rock Half Marathon and 10k in June 2014.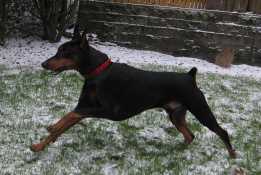 Monroe Doberman, Junior Timing Dog. Monroe is still learning the ropes but is showing quick proficiency. He loves anything that moves and especially loves blankets, presumably to help everyone stay warm while race timing on cold mornings. He briefly attended his first race, the Stars and Stripes Marathon in July 2014, when he was only 10 weeks old.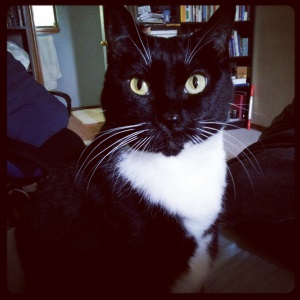 Sally, Chief Executive Officer. Sally rules the world even though the world just consists of one bedroom in her home. Her favorite timing method is chip timing. She is such a fan of chip timing she has an RFID chip embedded in her.
Lady Bug, Chief Operations Officer. Lady Bug ensures all tasks get done timely and accurately even though the only task she knows of is us petting her. If you neglect to pet her she will repeatedly head-butt you until you do.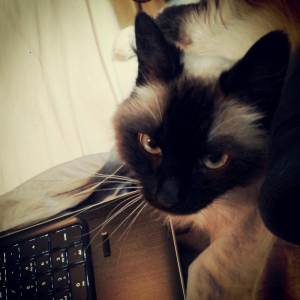 Conscience, Chief Technology Officer. Conscience loves technology and rubbing up against laptops and mobile phones. She was adopted from Cat Adoption Team in Fall 2012. Although she is an older kitty with chronic renal failure, she continues her technology "management" duties and bringing happiness to those around her.